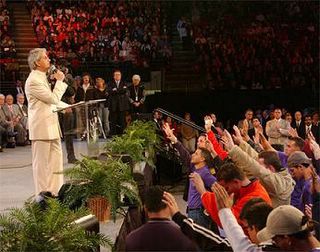 "Please squander my money! Please squander my money!"
I have a weird fascination with televangelists and one of my favorites over the past few years has been Benny Hinn. I love watching his crusades and revivals on TBN despite my hatred of everything that he believes in and preaches. He is just such an amazing showman and such an amazing shyster and it's incredible to see him put a spell on everybody that he preaches to. I just marvel at the incredible amount of lying and cheating, the incredible oppulence that surrounds Benny in everything he does, the amazing hypocrisy in his preaching and the power that he holds over people despite all of this.

So imagine my excitement when I found out about a two hour special on Dateline NBC about Benny that aired last night. I almost missed the entire thing and only saw the final 30 minutes or so, but even in that half hour I was totally blown away at what a gigantic douche bag Benny Hinn is.

Wow. Watching him for years I understand that he is just an awful person who tricks people into believing that he is healing them. But faith healers have been around forever in virtually every religion. This game is nothing new. But the way that he spends and spends and spends the church's money and lies about where the donations are going is criminal and rivals even the worst of all of the corporate scandals of the last few years.

I'm not a religious person but sometimes I wish that there is a Hell solely for people like Benny Hinn that use spirituality and God as a weapon (and a shield) in their quest to become rich and powerful. He is a predator of the most manipulative kind who preys on people who need God in their lives but end up with a false prophet named Benny, better know to you and me as Pastor Douche Bag.