The wife and I took our first trip to Hollywood on Sunday afternoon for dinner and to see the Broadway musical Wicked. I foolishly thought that dinner and a musical would really be all we would see. Instead we were blown away by everything saw.

We decided to eat at Koji's Shabu Shabu (highly recommended) located in the Hollywood and Highland center. I didn't realize that the Hollywood and Highland center was actually the home of the Kodak Theater (where they hold the Oscars), Grauman's Chinese Theater, KROQ and apparently Ryan Seacrest's awful show. Anyway dinner was great and our server was an authentic struggling actor or rocker just like we always wanted.

The H&H center is also across the street from the El Capitan Theater where it just so happened that they were having the world premiere of Herbie: Fully Loaded starring Lindsay Lohan. Unfortunately we didn't get to see Lindsay and her newly anorexic self, but hey, it's our first day in Hollywood, I'll settle for seeing Herbie the Love Bug and that awful group they had singing down the street.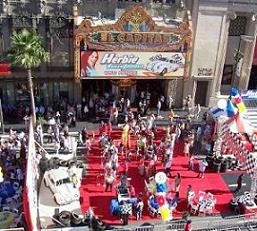 We also both forgot about the Hollywood Walk of Fame but it's hard to miss it once you get out onto Hollywood Boulevard. We saw all sorts of stars including Dean Martin (we think he has two stars), Mary Kate and Ashley Olsen (Deano has two stars and yet they only get one, oh sweet justice), Ryan Seacrest (my bowels did move a bit) and of course, the greatest of all, Kermit the Frog...

We also answered a burning question. What the hell ever happened to this guy...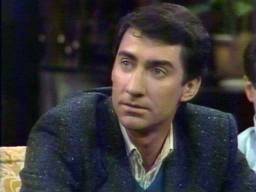 Actually David Garrison (seen here as Steve Rhoades on Married With Children) is an accomplished Broadway actor and is appearing in Wicked as the Wizard. He was really damn good as was everybody else. Even the understudies that played both lead roles Glinda and Elphaba were damn good. Overall I highly recommend Wicked if you have an opportunity to see it when it comes to your town.

So overall, our first trip to Hollywood was a wild success. We had heard and read so many horror stories about how nasty Hollywood is now that we were expecting the worst. We even walked the six blocks from the H&H center to the Pantages and despite a few goofballs, it wasn't as bad as it was made out to be. The creepiest thing we saw the entire day was all of the Scientology centers. Maybe they're what everybody was warning us about. They are almost enough to make you never want to return to Hollywood.