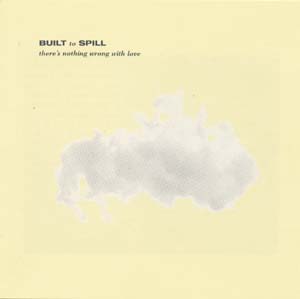 I've been trying to keep the number of songs by one artist on my IPod to a minimum, but while adding songs from Built To Spill's There's Nothing Wrong With Love last night I realized that this is going to be very difficult with this album. I couldn't find but one song on this album to leave off, and even it's a pretty damn good song.

I hadn't listened to this album in months and somehow I forgot just how amazing and nearly perfect it is. From track one, "In the Morning" all the way to the last song "Stab" it just flows perfectly giving you 12 perfect pop nuggets along the way.

After "In the Morning" ends on comes track two, "Reasons" and I start to think that it might be my favorite song ever. Then "Reasons" finishes and "Big Dipper" starts and suddenly I have a new favorite song. And then you get to "Car" and "Fling" and "Twin Falls" and "Distopian Dream Girl" and by that time I'm as happy as can be but flustered and confused. Can I have six favorite songs all by the same artist? How did "Rump Shaka" fall so far on my favorites list?

If you've never heard this album, don't even bother listening to previews or anything. Just go out and buy it, download it from ITunes or burn it from a friend. I don't care, just get it. You won't regret it. It's easily my favorite album of all time and I think it might just do something for you too.